How to Support your Friends or Family Members During a Military Deployment
Written by Bethany Harold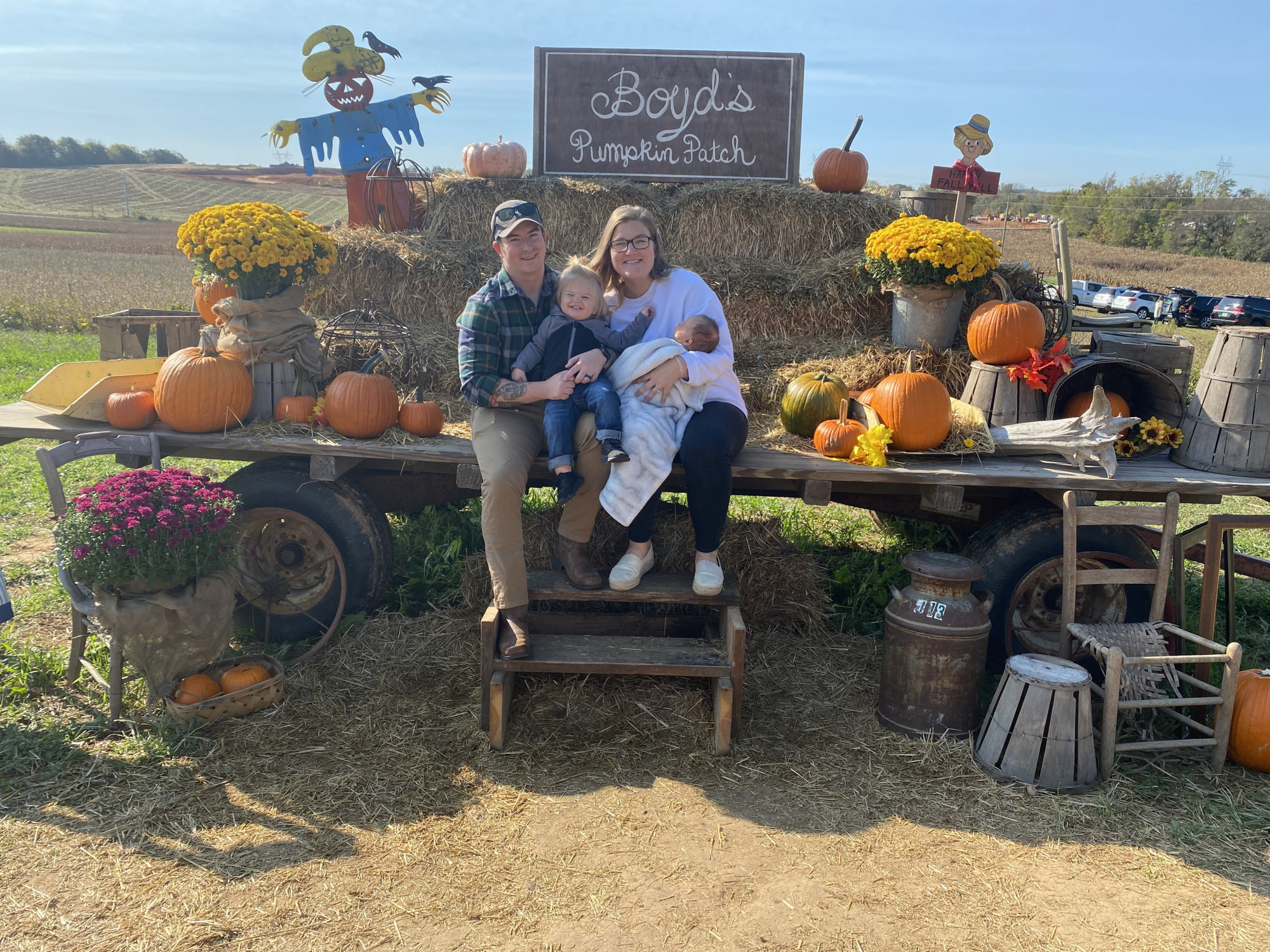 Bethany and her family in the fall of 2020
"Do you need anything?" The question I dreaded being asked. Not because I didn't appreciate the thought behind the question or because I didn't need anything (because I did) but because I had no idea how to answer that question.  When my husband was deployed to Iraq in 2019, I had just become a first time mom, it was my first time experiencing my husband being gone for months on end, and I was living hundreds of miles away from my family. I desperately needed things but like so many of us, I had no idea how to voice what I needed. I had no idea how to ask for help from others or really even accept help from others. I had family and friends asking me what I needed almost weekly and each time I would respond with, "No, I think I'm okay." Which was a lie. So here are a few ways to offer help instead of asking, "Do you need anything?"
Do be sincere and follow through. When extending a helping hand, make sure to follow through with what you say you will do. Showing up when you say you will show up means so much to someone who is used to constant change and uncertainty.
Do ask if there is a food dish or take out you can bring over. Being busy with work, kids, housework, etc., makes finding time for dinner difficult. Offering to bring over food is just one more thing they don't have to think about. Even if you want to help someone from afar, giving him or her an e-gift card to their favorite restaurant is an easy way to support them.
Do ask if there is something around the house you can help with? This was something my own family and friends. We all love a clean home and having someone help clean takes off so much stress. Having the yard mowed for me was a huge help when trying to recover from birth and take care of a newborn. For those of you that don't live close to the person you are supporting, you can call a local landscaping service and have them come over to mow once or twice. I had this and it was amazing.
Do ask if you can help take care of their animals. Many of us have dogs or animals that can oftentimes get forgotten about. Offering to take their animals for a walk or help feed/bathe/play with them is great. If you are supporting from afar, you could call a local doggie daycare and pay for a couple day passes.
Do ask about helping them with their older children. I know that finding balance between taking care of my newborn and also giving just as much attention to my older son is hard. When family and friends come over and play with my oldest, I feel such a sense of relief and I know how much he enjoys that special attention. From afar, something that can be done to show support is by offering to buy the other kid/s a new toy to not only keep them busy but also make them feel special, too.
Do offer to go grocery shopping for them or to babysit so he or she can go out. Something so simple as going to the store alone is truly treasured. Offering to do the shopping for them or watching their kids so they can go out alone is an easy win-win for everyone. You get to spend time with their kids and they get to spend time away from their kids!
I also feel the need to include a couple tips on areas you want to avoid bringing up when someone close to you is experiencing a deployment:
Don't ask how much longer until the service member comes home. Trust me, we know how long it is. We also know that the date can change AND that day seems like it'll never get here.  
Don't compare deployment experiences you have heard from other spouses or what you've seen on TV. Deployments are unique to everyone. Hearing about when someone else's Soldier is able to call or comes home can be really upsetting. We know you don't mean any harm by it but definitely an area we don't want to talk about.
Don't exclude them just because they keep saying they can't do something. This is huge. It's not always feasible to go out to dinner with a group of friends or to make that event everyone is going to. But the act of getting invited means a lot. It makes the person feel included even if they can't always make it and sometimes being included is all they need. 
I hope these tips are helpful to you all. As a military spouse, the support you all decide to show is so welcomed. I can say from all of us, we appreciate what you guys do to try and support us and make us feel whole while a piece of us is missing. 
********
If you loved this blog post, we'd love if you'd scroll down to the image below and share it on Pinterest! This helps us to achieve our mission of connecting with and helping out new mamas by sharing our experiences! Thank you! xoxo
Motherhood for Me is here to create a better motherhood community. A place without judgement, mom-shaming, or condescending articles telling you what to do. We are a place for you to come as you are, read about what other mamas are going through, share your own stories (if you want,) and provide opportunities for you to find camaraderie with other mothers. Please check out our other mama submitted stories, sign up to receive email alerts when we publish a new one, and spread the word to all your mama friends. We truly appreciate your support and you being here. Thank you!