Today I'm making the case for buying maternity clothing and sharing my favorite maternity clothes so far this time around! The first time I was pregnant, I really tried to avoid buying too many "maternity" pieces of clothing. I don't really know why – I think I had it in my head that maternity clothes weren't cute and I just fought it. I also remember thinking it was a waste of money and figured I could just squeeze into my own clothes as long as possible and then wear the same five things the rest of the time – which I did. Even if you know you want to have more than one child, for us midwestern gals it's hard to say if you'll be pregnant during the same seasons with your pregnancies, so if you do decide to buy yourself something you don't necessarily know if you'll be able to wear it the next time around.
With all that being said, I spent a lot of my first pregnancy being uncomfortable from a clothing standpoint, and getting frustrated when my body would change literally overnight and something that fit 2 days ago no longer did. (PSA – non-maternity pants don't feel good when you're pregnant- in fact, they hurt!) And I don't know about you, but I am not one of those people who barely look pregnant or change sizes. My entire body grows – hips, butt, thighs, and obviously stomach. When your clothes don't fit, it doesn't feel good from a comfort or confidence standpoint – and so this time around I told myself I would buy more pieces, and I've been really happy I did.
You don't have to spend a fortune on them either. I found a ton of great lower priced options at ASOS and Target, and then only picked a few pieces that I spent a bit more on. I plan on letting my friends borrow when I'm done and / or donating them.
Below I've compiled some of my favorite maternity clothes so far and a few of the items I'm eyeing to get me through the rest of it / postpartum.
Heads up – as an affiliate, if you click and purchase through some of these links I may earn a small commission.
We're here to support all moms throughout pregnancy, birth, and postpartum. If you're new here, please check out the rest of our posts (shared by various mamas): https://motherhoodforme.com/all-posts/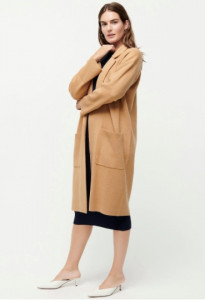 Sweater Blazer
I bought this about a month ago and I'm still obsessed with it. I wear it almost everyday - with jeans, joggers, over t-shirts/tanks, dresses, as a coat, you name it. I especially love that I can wear it now (8 months pregnant) and I'll also be able to wear it post-baby because it's not actually a maternity piece. I know I'm eating my previous words a bit on why you should buy maternity specific clothes, but this is a great example of something that fits the bill even though it's not maternity. As an FYI - It does run big - I ordered a small (my usual size is medium) and it fits well / there's still plenty of room.
SHOP