Now that I'm well into my third trimester (how is this pregnancy going so fast?!) we spent this past weekend working on baby girl's nursery! I got some pink paint samples (for the walls? for the furniture?) on Friday over my lunch break and it was probably the first real thing I've purchased for this baby so far (I know, I need to get on it!)…Anyway, it made me really, really excited. Of course it was fun shopping for Shepard before he was born (and still is) but I have to say – decorating and shopping for a girl is very exciting. I fear that once I start, I won't be able to stop 🙂 Today I thought I'd share a few of my favorite baby girl nursery pins that have given me lots of ideas and inspiration for how we're going to decorate this baby's room. I'm going pretty traditionally feminine, because why not? If she hates it and wants to paint it all blue in the coming years, she can have at it! You'll have to wait and see which "pin inspo" we actually went with – I will definitely share before and after photos once it's complete!
If you're not following Motherhood for Me on Pinterest yet, I'd love it if you would! I share all of our blog posts there as well as others that I find on Pinterest that are relevant to that topic (i.e. pregnancy, birth stories, postpartum, toddler years, etc.) so it's a great place to find even more mama-written stories that aren't shared on our website!
Here is a link to our Pinterest page, and then each photo below is also linked to my Baby Girl Nursery board as well.
Nursery Pins I'm Drawing Inspiration From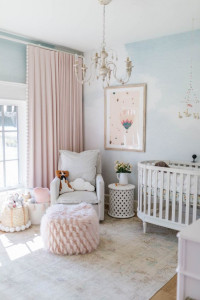 Jillian Harris' Baby Girl Nursery
I am a huge fan of Jillian Harris' decor style. I often draw inspiration from her blog and home decor anytime I'm looking to make changes to our furniture or home in general. I'd say a lot of her stuff is french country meets modern meets feminine. If you haven't checked out her blog, you definitely should.
Check it Out