Written by Samantha McClelland – Sharing The Baby Registry Items We Loved So Much We Used Them Again With Baby #2
I know baby showers for second children are not common, and with Lucy being our second baby, we planned to reuse a lot of baby products from when Jack was an infant. My in-laws were sweet enough to organize a drive-by baby shower in April for us and so I ended up putting together small registry on Target and Amazon. I hadn't planned on sharing it with friends and family initially, I mainly wanted to get the 15% completion discount to pick up the few items we needed for her arrival (a new bassinet, new burp cloths, a new baby monitor, etc.).
Here are a few new items we are using and loving, as well as items we swear by for both kiddos. I still swear by this list I put together when Jack was a few months old and here is what we have been using the second time around with Lucy.

*Heads up! Sam may earn a small commission if you choose to purchase through any of these links. That being said, she has used all of these items herself and only recommends what she truly loves.
Check out Sam's Contributor profile here.
Baby #2 Essentials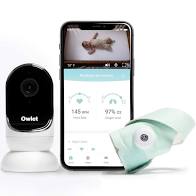 Owlet Monitor and Camera
This was a last minute splurge the week prior to Lucy's early arrival at 38 weeks. We needed a new monitor for the nursery and with Jack's asthma diagnosis back in December, we wanted to be as safe as possible with a new baby. We haven't had any issues with false alarms and at the moment, Lucy sleeps next to us, but I still use it to monitor her so I'm not always getting all the way out of bed to check on her. The camera, which is viewed from the Owlet App, is set up in her nursery where she is currently taking her naps.
Shop