Baby Girl's Nursery is Finally Ready!
A few weeks ago, I shared a post with all of my favorite nursery inspiration – most of it very light and feminine. You can also check out my nursery Pinterest board here (PS – I'd love if you'd give us a follow on Pinterest!) Since then, my husband and I (mostly my husband) have gone to work on getting this little girl's room all ready for her arrival later this month. Now – reminder – I am not a professional decorator or photographer – so bear with me and please be kind 🙂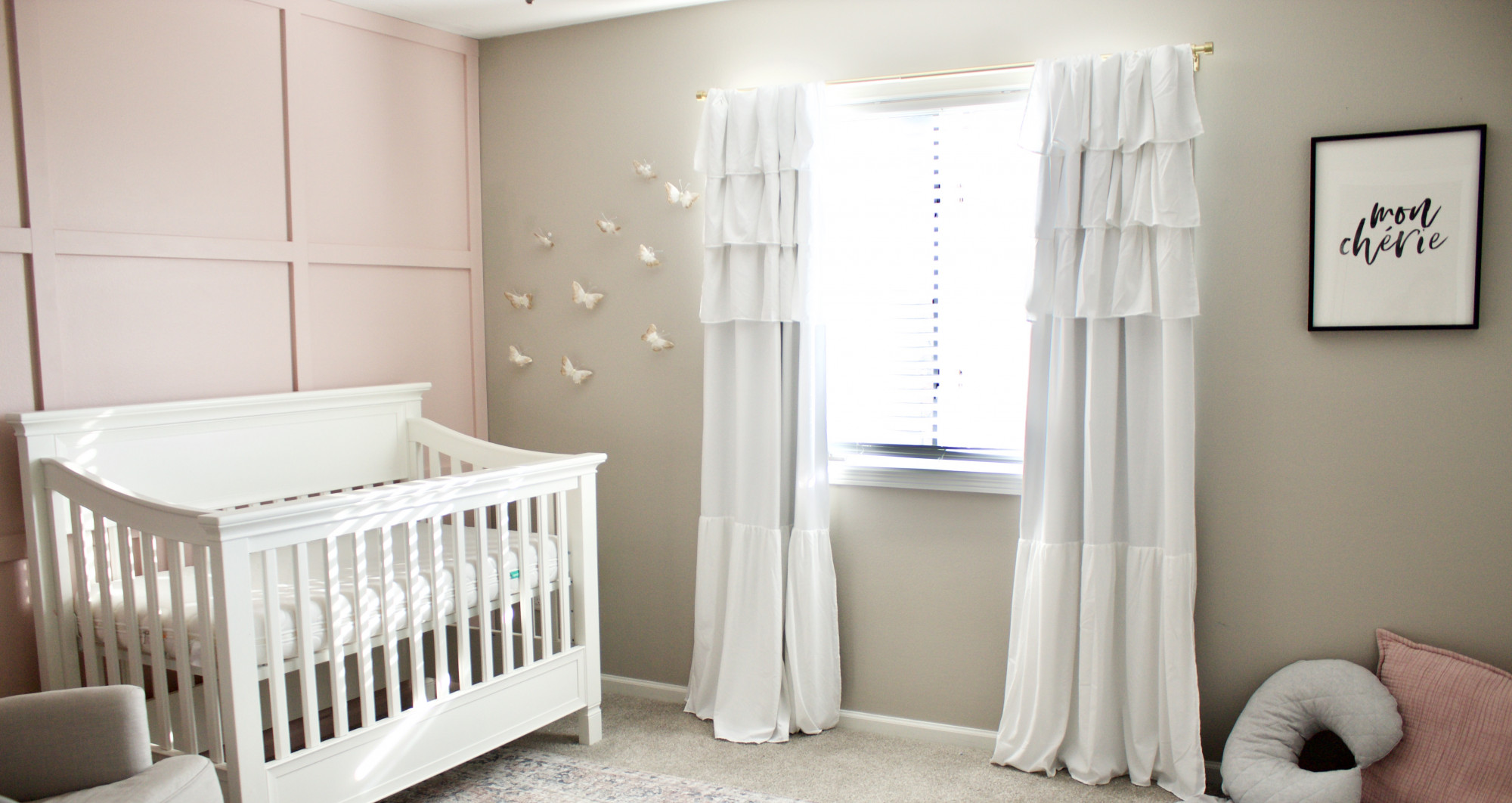 First thing's first – the square paneled accent wall. One of my best friend's husbands created a similar wall for their nursery in white earlier this year and we fell in love with it – so like any good friends, we copied them. 😉 In all seriousness – we loved how much character and texture it added to the space. We also thought it would be something that the baby would still love over time / as the she gets older. I am super impressed with my husband's handyman skills (they were semi non-existent pre-COVID and he has really leaned into the DIY world – which is paying off for me!) We had most of the tools it required, so he just had to measure and buy wood, sand, caulk, paint, etc. and it was done within 24 hours of him starting. It was also extremely inexpensive (because we already had the tools). We're talking less than $100. If you are interested in learning how to do it- just email or DM me and I can get you whatever instructions he followed!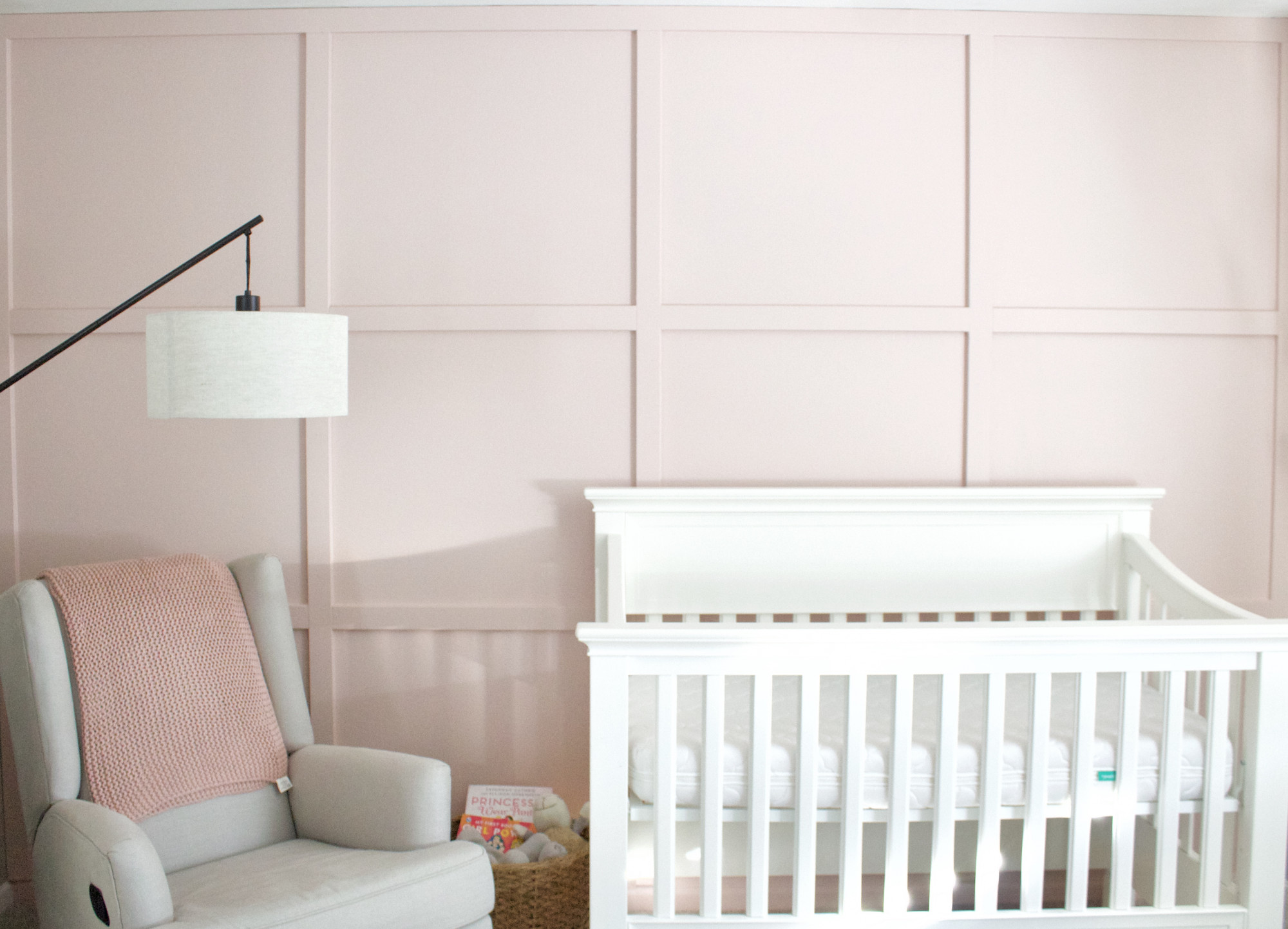 The furniture: All of the large furniture pieces (crib, rocking chair, and dresser) were all pieces we used with Shepard, and I was really happy that they work well for both kids / that we didn't need to get anything new in that regard. The dresser is actually my old dresser – which I've had for over 10 years (I bought it from Redeker's which is an Iowa based furniture store) and it's still holding up strong! There were a few drawers that had come a little loose over time but we bought new drawer tracks from Lowe's and it's now good as new. I also bought gold pulls off Etsy to replace these knobs but they just arrived and we haven't had a chance to update them yet.
If you're in the market / trying to decide on rocking chairs and cribs – I've been really happy with ours (I'll link everything at the bottom of this post). They are both Pottery Barn.  I wasn't super sold on this crib when we got it because I sort of thought it was too big and bulky (Eric won that argument) but I love it now. For starters, you can tell that the quality is there as it's held up very well. It lasted through Shepard for 2.5+ years and I'm anticipating at least the same with baby girl. Once she's done with the crib it transitions into a toddler bed and then after that into a headboard, so I am planning on getting many years of use out of it! Also – from a "design" standpoint – it looked great in Shepard's room (which was more of a typical boy theme) and now it looks really nice in this feminine nursery as well.
Note on rocking chairs: I am really glad I got one that reclines. I can't tell you how many times I used the recliner at night if Shep was sick or if I needed to lay in his room for whatever reason. We also enjoyed a lot of cuddle time in the recliner and I never regretted getting that (vs one that just rocks).
The light was a last minute addition – I thought we needed something in that corner and wanted to add some depth. I was able to find this one at Target – score! It's also on a dimmer – so I can turn it up or down for those middle of the night feeds without having to turn the overhead light on, which will be great.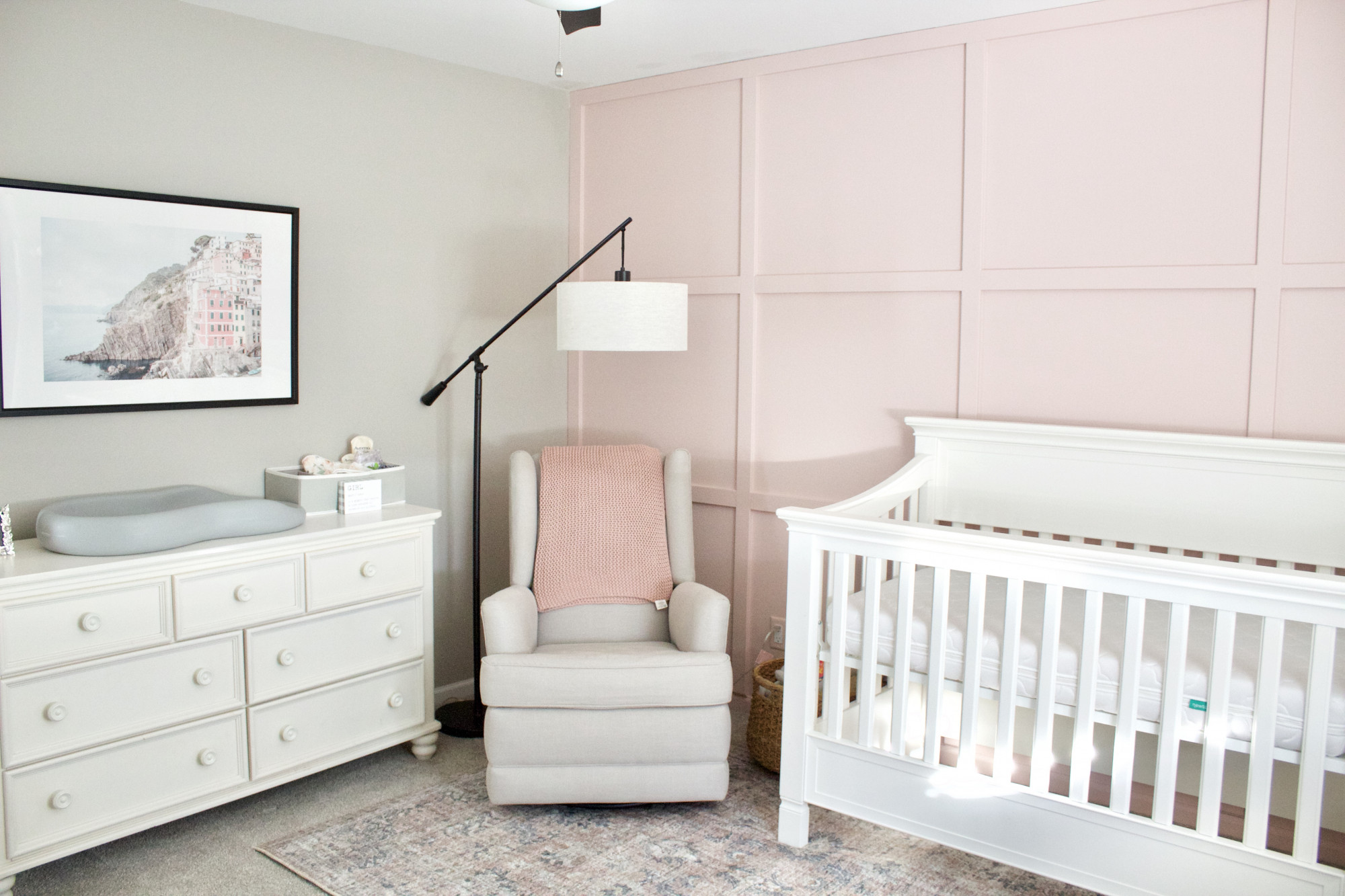 Okay how sweet are these little stick on butterflies? My mother in law sent them and I couldn't love them more. I'll link them below.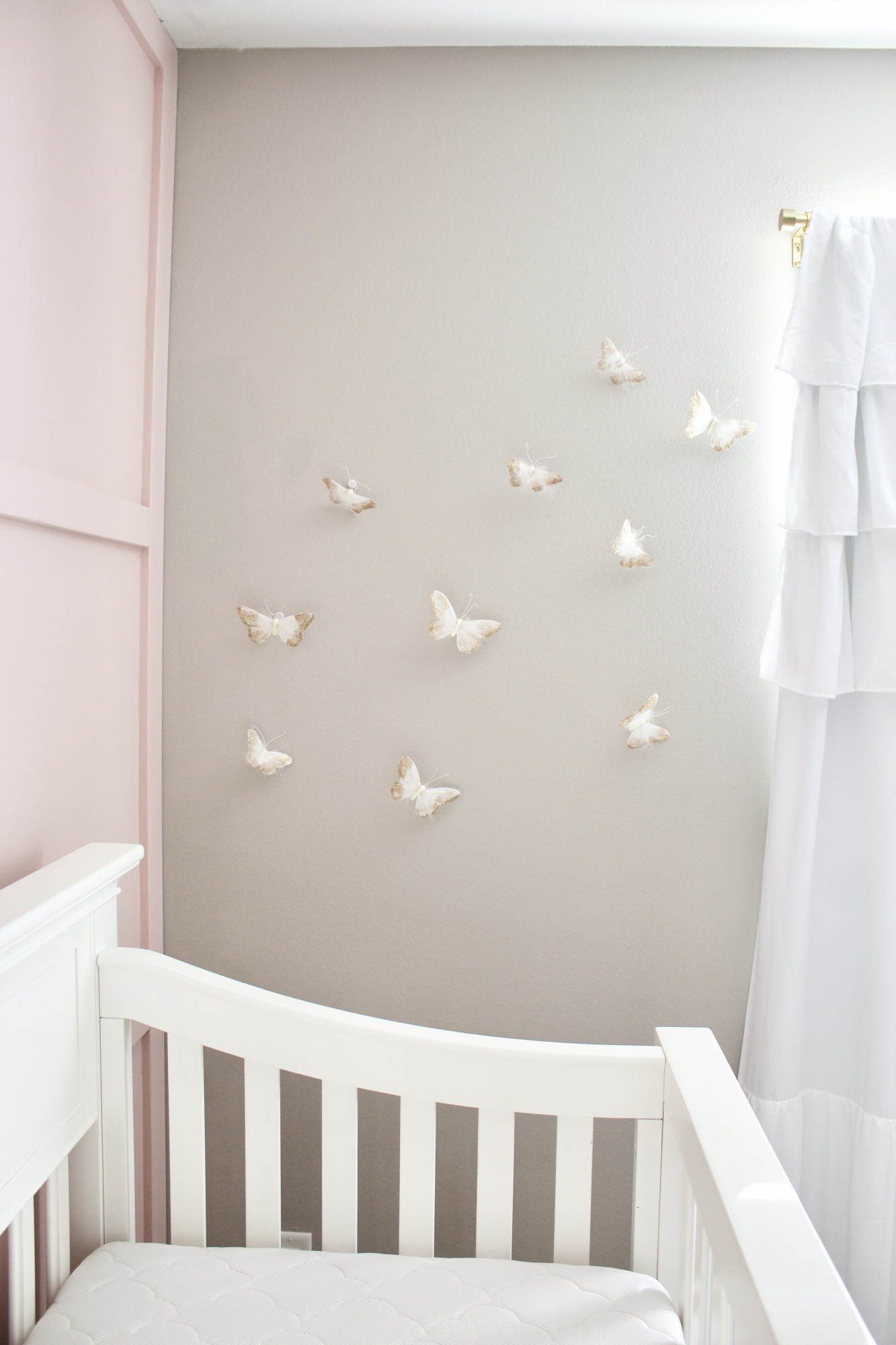 The photograph above the dresser is one that we actually purchased for our office gallery wall (that we still haven't completed- hah!) a few months ago from Society6. I was trying to figure out what to put up there and remembered we had it just sitting on the floor in the next room, so we held it up to see if it fit and fell in love. I think it's Positano with some additional pink hues – it matches the room so well and also gives it a bit more depth with the black frame.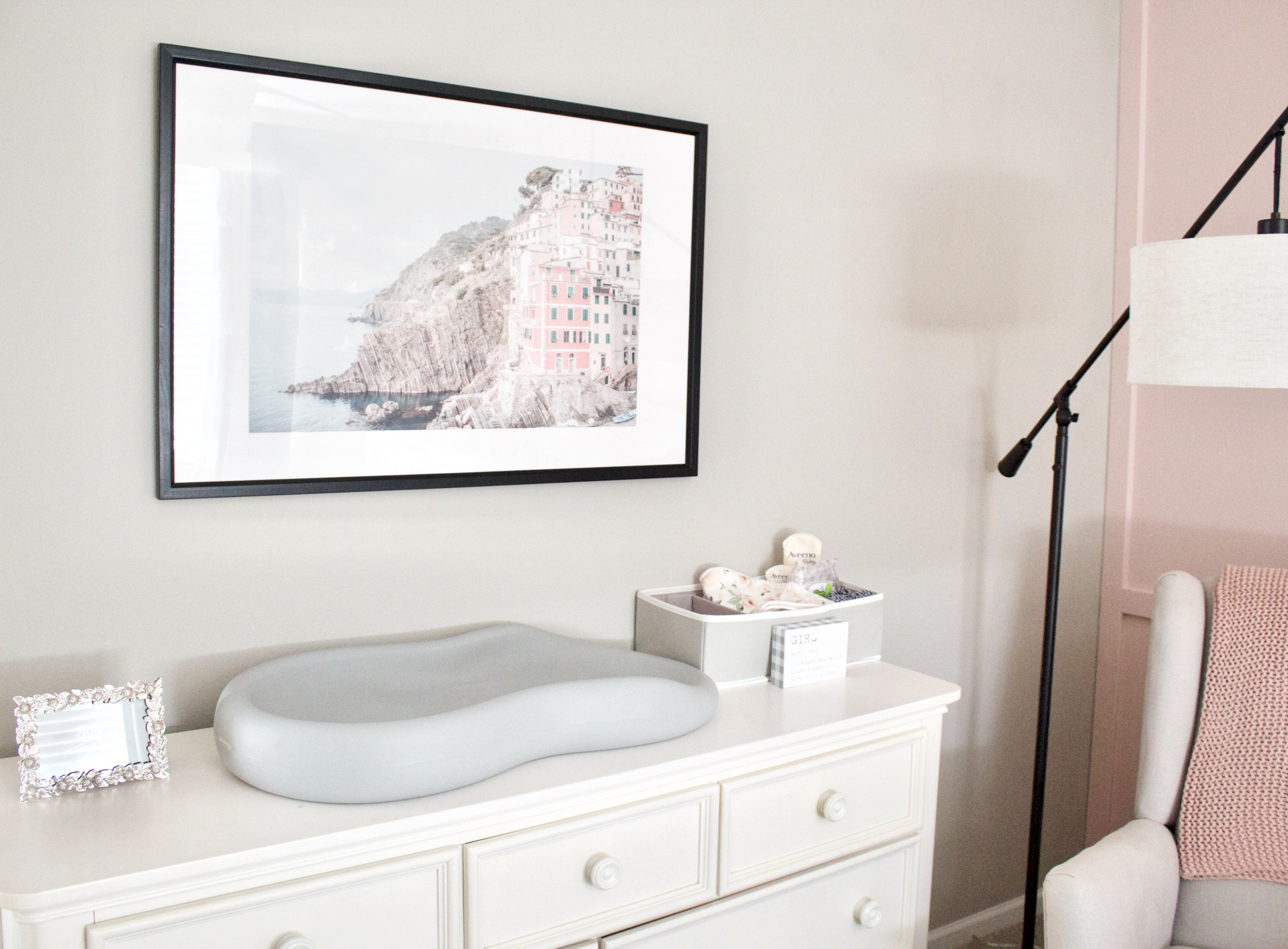 I know you can't see this rug very well – but this was a Hail Mary purchase and it really paid off. I am usually horrible at picking out and finding the right rugs for a space. They either have too much or not enough of the color I was hoping to add, and never translate how I think they will. Rugs can also be so expensive and really annoying to send back! I found this one on Amazon and it was SO cheap – which I love, because it's a baby's room – but it's also really soft and fits the room perfectly. We do have grey carpet in there, so I didn't want anything too thick or heavy – and this one is just right. My husband even agreed and he usually hates when I try to layer rugs on carpet. I will be purchasing a rug for Shep's room and the basement / play area from this same company moving forward.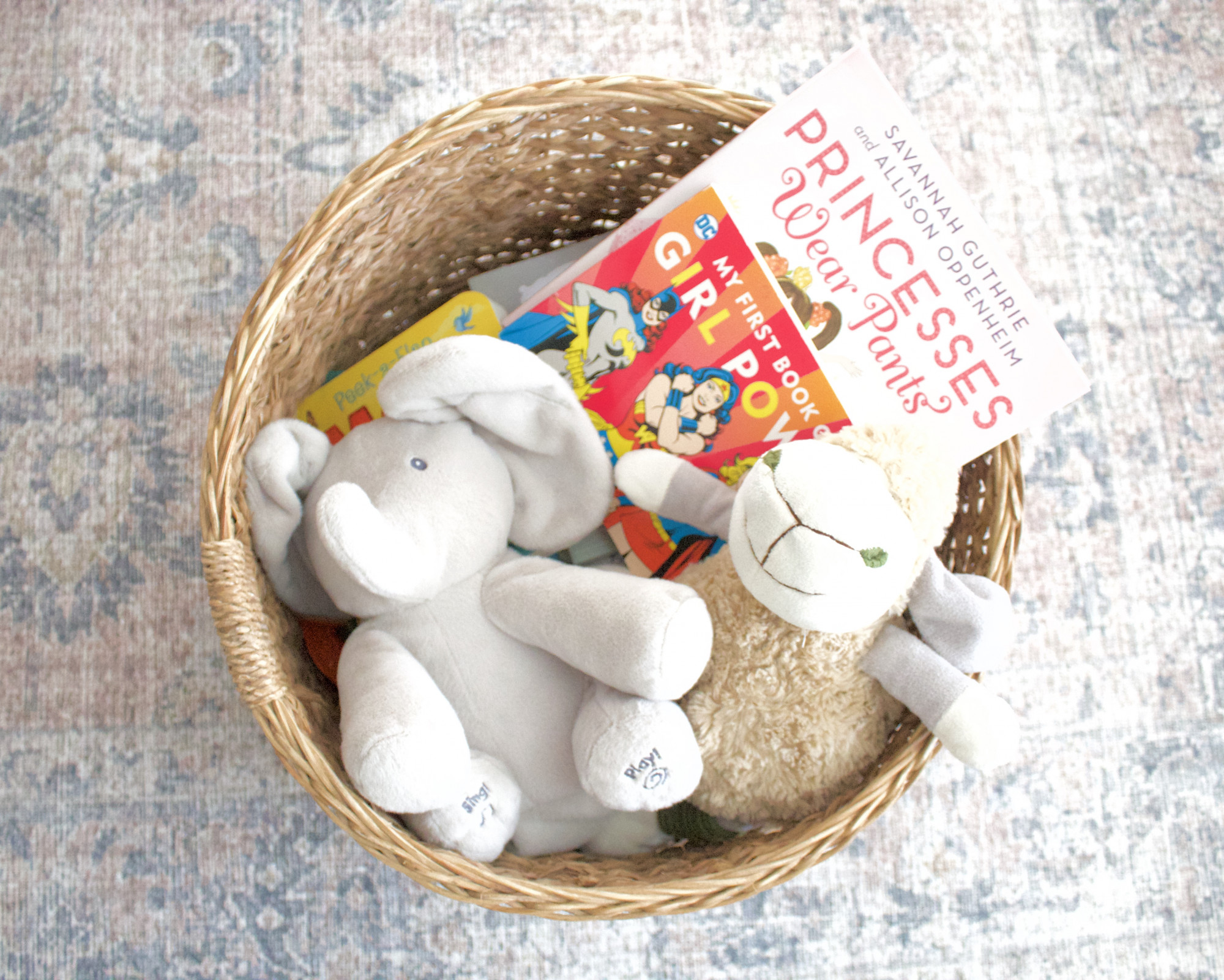 Well, there she is! I hope you like it 🙂 If you don't, I don't want to know – haha! Everything I have links to will be listed below. Let me know in the comments if you have any questions! xoxo
Art:
Pottery Barn:
Target:
White Ruffle Blackout Curtains
Amazon
Buy Buy Baby
Used and loved both the mattress and changing pad with Shep. Highly, highly recommend both
As an affiliate partner for some of these brands, we may earn a small commission if you choose to purchase through the links. That being said, we've personally used all of these items, and only recommend what we truly love!
*********
Motherhood for Me is here to create a better motherhood community. A place without judgement, mom-shaming, or condescending articles telling you what to do. We are a place for you to come as you are, read about what other mamas are going through, share your own stories (if you want,) and provide opportunities for you to find camaraderie with other mothers. Please check out our other mama submitted stories, sign up to receive email alerts when we publish a new one, and spread the word to all your mama friends. We truly appreciate your support and you being here. Thank you so much!