Below I've rounded up all of the essential newborn baby products that we use with Scottie on a daily basis. Some of these we also used with Shepard, others are brand new (to us) that seem to be making life easier! Let me know if there are any products you love that you'd add to this list in the comments below! PS: As an affiliate partner for some of these brands, we may earn a very small commission if you choose to purchase through the links.
Click here to check out our other mama submitted content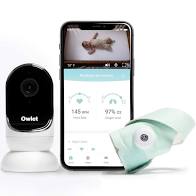 Owlet Baby Monitor
We bought and used this with Shep and pulled it back out with Scottie. We just had to update the app and it was good to go. It gave me such peace of mind when I was struggling with PPA with my first - it was about the only thing that helped me sleep back then. With Scottie, we actually had an incident where her oxygen levels dipped pretty low a few weeks ago and we wouldn't have known had it not been for the Owlet sending off alarm bells. I'm not quite ready to talk about that story yet - but I don't know (and don't want to know) what would've happened if we hadn't had it on her.
Shop