Traveling with Little Kids and How to Make it Easier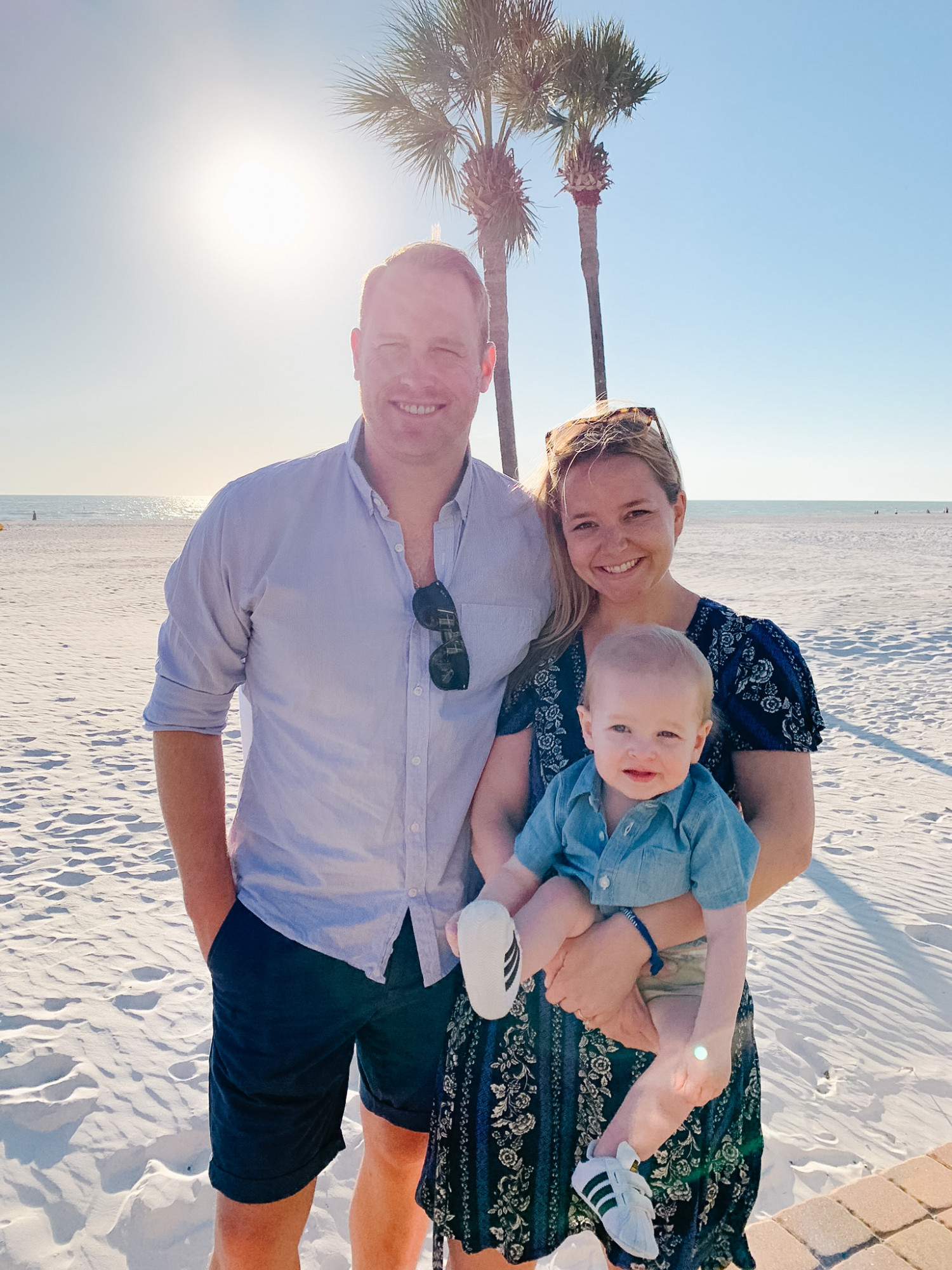 The last time we were in St. Pete, back in 2019 – Shep was a little over one year old! 
We are gearing up for a family vacation next week – and to say that I'm excited would be a major understatement. We're heading down to St. Pete Beach to see family we haven't seen in close to two years (since last year we skipped this annual family trip due to COVID). Honestly, I hesitated to even share this, because everyone feels a little differently about traveling right now and everyone has different opinions and levels of comfort – but it's what we're doing and everyone in this MFM community has always been super supportive and understanding. Without getting into the weeds – Eric and I are vaccinated and we are taking many precautions to be as safe as possible with the kids during our journey to and from, and then we are not going anywhere besides the place we stay once we're there.
After the year we've all had with NOT traveling, I had almost forgotten how difficult it can be to plan and pack for a trip with kids and all that goes with it. Add a baby to that and I feel like we're going to look like we're moving down there. We are trying to keep things as minimal as possible (LOL)…but it's SO hard with babies and toddlers because they need so much STUFF just to function and to keep life easy from day to day.
The good thing is- there ARE ways to travel with kids nowadays that can make things much easier, and so I've compiled a list below of all the logistics we've planned for and services we're utilizing – in case it can help save another mama a few headaches when planning her family's travel in the future!
First thing's first – transportation. Eric and I disagree on this, but I think it's easiest to bring our stroller. Please comment below if you also disagree – I still have time to change my mind – haha! Scottie's infant car seat clicks right into the stroller so we can push her through the airpot in that, have storage underneath for additional bags, and Shep can ride on the piggyback ride along board that also clicks into it if he doesn't want to walk or if we're in a hurry (which I can guarantee you, we will be at some point). Scottie's car seat and stroller can both be checked plane side at no charge, which should be super easy. From there, I'll bring my baby carrier as a back up. FYI: On most airlines, families can pack a diaper bag AND a breast pump bag+cooler with milk, and neither count toward your carry on bag allotment. Read up on your TSA rights before traveling here and on your airline's website for their specific policies.
For the actual plane ride we will need the following: diaper bag, nursing cover/baby blanket, burp rag, change of clothes for Scottie, Shep's tablet and charger, Shep's headphones, a few coloring activities and books, snacks, water bottle, backup formula, baby bottle, bottle wipes to sanitize bottle after use. Sanitary stuff / COVID stuff we're bringing for the flight to help protect against germs: masks for Shep, these bucket hats with face shields for both kids, hand sanitizer, wipes, etc.
Hot Tips for Flights: Feed the baby on the way up and on the way down. This will help with regulating their ears with the air pressure. Someone also once told me to never forget an extra set of clothes for a baby on a flight. Something about the air pressure makes them more prone to blow outs. I didn't believe it at first, but Shep always had blowouts on flights when he was a baby. It never failed. So don't forget that if you're traveling with a little babe! I also usually had Shep fly in COO BABY pajamas when he was little, or at least bamboo clothing – since bamboo is temperature regulating. That way if it's super hot or really chilly on a flight, they will be comfortable.
Once we land, I've arranged a car service to pick us up from the airport and take us to the place we're staying. The car service company also provides car seat rentals, so Shep's carseat will be all ready to go when they pick us up (and then we'll have Scottie's car seat with us). This was much more affordable than renting a car for the entire trip, and they'll also take us back at the end of our trip. All I did was google and use Trip Advisor to find a reputable company and booked it a few weeks in advance (along with triple confirming the car seat rental add-on).
As far as what we need for the baby once we're there, I used the service BabyQuip to rent a pack and play, black out shades, baby monitors, and a baby bouncer – which will all be delivered and set up upon our arrival. I have used this company in the past when we've traveled and it's awesome. It's basically like Uber but it's (mostly) moms who rent out, deliver, and clean baby stuff for travelers so you don't have to bring everything under the sun. I found a gal who had what we needed and then was able to book it really easily and securely through the site. They have everything from full sized cribs, high chairs, beach toys, step stools, you name it – they probably have it. Makes traveling with kids WAY easier. (Mamas – this is also a great way to make side income if you're interested in being the one renting things out! Grandmas – if you have grandkids coming to visit, this is also a great option so your daughter or son doesn't have to bring every little thing every time!) Can find out more or book directly here.
As far as sunscreen, diapers, and wipes, I am ordering those off Amazon this week and having them delivered so they're there when we arrive and we don't have to worry about bringing down or buying there. As we all know sunscreen costs an arm and a leg if you try and buy it near a beach.
So, as we've gathered, traveling with kids can be a LOT. That being said, I'm really excited to make memories with Eric, Shep, and Scottie, and I know that it'll all be worth it in the end. We'll never remember the 500 page list of things we need to bring or coordinate, but we WILL remember being there as a family and spending time together.
I hope you found this blog helpful!! Please comment below your thoughts or recommendations if I'm forgetting anything!! xoxo Kaci
PS – As an affiliate partner, you know the drill! I may earn a small commission if you choose to purchase through any of the links I shared in this post. I will always only recommend what I truly love, and I sincerely appreciate your support in doing so.
*********
Motherhood for Me is here to create a better motherhood community. A place without judgement, mom-shaming, or condescending articles telling you what to do. We are a place for you to come as you are, read about what other mamas are going through, share your own stories (if you want,) and provide opportunities for you to find camaraderie with other mothers. Please check out our other mama submitted stories, sign up to receive email alerts when we publish a new one, and spread the word to all your mama friends. We truly appreciate your support and you being here. Thank you!