Below I've compiled the perfect baby registry essentials list – all things we used with our firstborn son, Shep! Why? Because registering for your first child can be really overwhelming and it's hard to know where to start! What are the perfect baby registry essentials what you need? What stores should you register in? How should you setup your registry? But most importantly – what products should you put on your registry?! There are so many questions – all of which I've answered below!
We used Babylist to set up our registry- and it was really easy. My favorite part about it was that I could link items from multiple places / stores – so I didn't have to pick just 1 or 2. It also compiles a list of who bought what and their addresses so you can easily write thank you's after you receive the gift. I will admit, it was a bit confusing for the older generation but overall I would recommend using them to set up your baby registry.
Please let us know if you have any questions or additional recommendations! We have a few other registry recommendation posts in the "Things We Love" section of our site. As an affiliate partner for some of these brands, we may earn a small commission if you choose to purchase through the links below. That being said, we've personally purchased and used all of these products, and only recommend what we truly love!
First Year Baby Must Haves for your Registry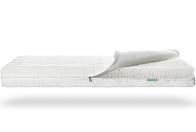 Newton Crib Mattress
I had a different mattress picked out and listed on my registry and then my girlfriend, who was also pregnant at the time, told me about Newton. I'm SO glad she did. I am a full-on crazy lady when it comes to crib and sleep safety (as most of us moms are!) Independent testing shows that a baby gets 97% more air while breathing through a Newton crib mattress than on a traditional crib mattress. Just google it and read about it yourself. It's awesome! PS -It's also firm, comfortable, and easy to clean. No baby sheets needed! PSS - Wait for a 20% discount to come out. They offer them fairly often.
Shop