Smith Family Life Updates!
Hellooooo, friends! It's been a while, so I thought I'd share what's been going on in the Smith household over the past few months! Somedays it feels like a lot and somedays it feels like a little. I'm sharing some pictures of the past few months below this post. We've definitely been taking our time enjoying our little family of four – and trying to get back into a semi-swing of things now that we aren't all confined to our homes all the time. As anyone with kids right now knows, it can be hard with the rest of the world feeling like it's getting back to normal – and sometimes I even feel like things are normal – but then I remember my kids aren't vaccinated and we probably shouldn't take them into that crowded restaurant or play place. BUT! This isn't a blog post about COVID! That being said, it's still part of our life experience right now and something we think about on the daily, so it's worth mentioning. 🙂
ANYWAY…on to more exciting updates.
Scottie is an absolute joy. She's outgoing (just getting the hang of crawling!), loves snuggling (with me – hah!), eating everything in sight, and sometimes needs extra cuddles before she can fall asleep. Shep loved sleep so much that we would just lay him in his crib and he'd fall asleep – which is not the case with little miss! But I don't mind. Because she's at daycare all day – I feel like the night time can be some of the only time during the day I get with her – so I'm embracing it. Lately though, it's been a bit more challenging because she's teething like a mad woman. She already had her first four teeth (two up top and two on the bottom) – which are absolutely adorable and the part I love most is that her top two teeth have a huge gap. I call her my little Madonna girl. But this week she's popped at least three more that I can feel already – and we're dealing with all that comes with that…the late night wake ups, swollen gums, runny nose, and I can tell she's just uncomfortable in general. We'll get through it! I just can't believe how many teeth she already has!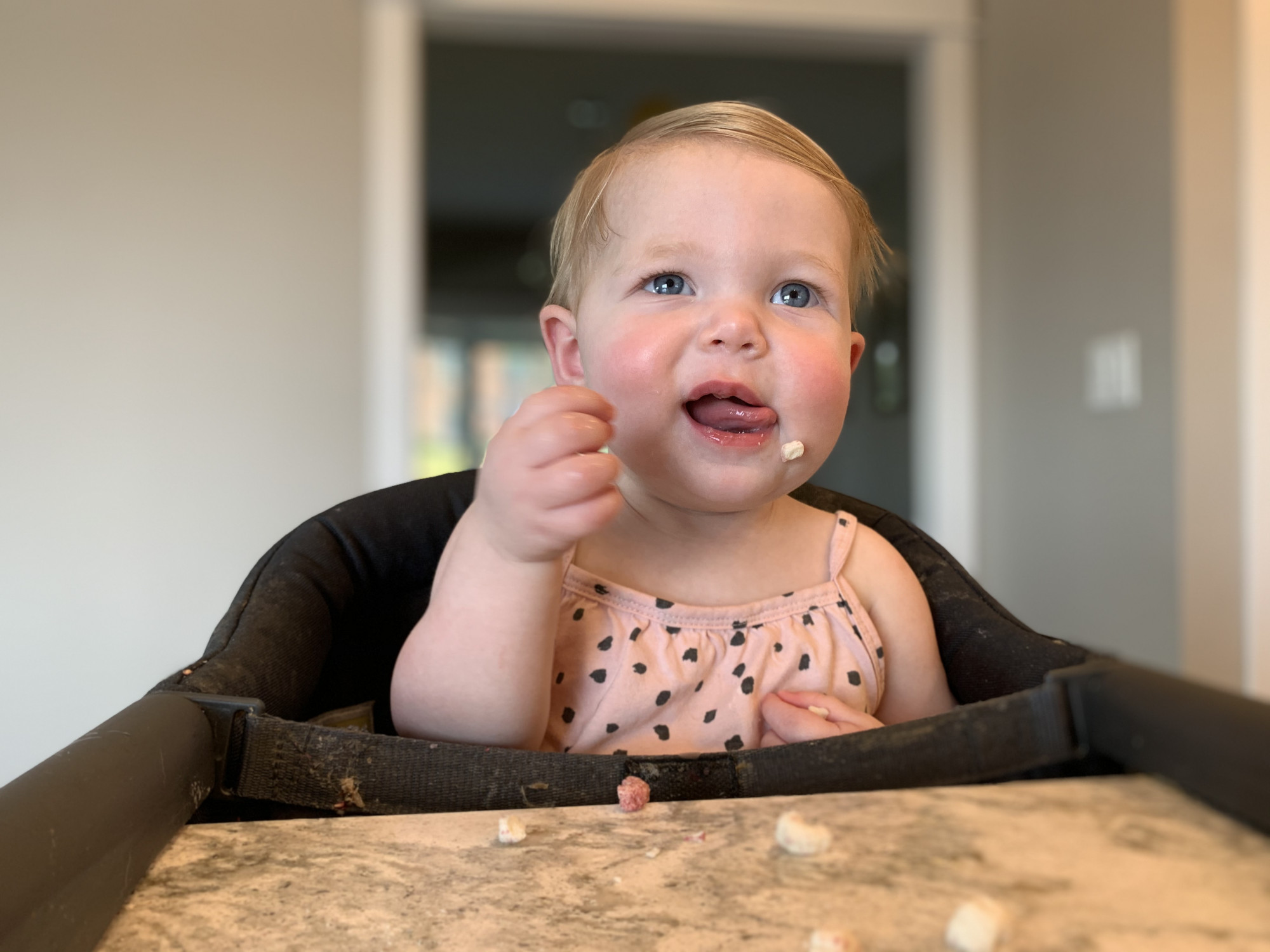 Shepard makes life very fun and very busy right now. I truly love getting to see his personality emerge and hearing all about his days at school. Most days when I pick him up – I probe him to tell me what happened that day — and 90% of the time he tells me, "Not now, mom." WHERE DO THEY GET THIS?! LOL! It's like he's a teenager already. But every night, after I put Scottie down and Eric puts Shep to bed, I sneak into Shep's room and lay with him so he can tell me about his day. He's so used to it now, that every time I open his door he says "Hi, mom!!" with the sweetest little boy voice. Then "Wanna talk about school?!" – ugh it just melts my heart. He then goes through the line up of all of this friends, what work they did that day, if anybody had to go "sit on the bench" (aka time out), and who cried and why. It's hilarious. Today was his day for "show and tell" and he was SO excited. He couldn't wait to pick out his favorite fire truck to show everyone. Eric told me that on the way into his classroom at drop off he just shouted at everyone "TODAY'S SHEPPY'S SHOW AND TELL DAY, TODAY'S SHEPPY'S SHOW AND TELL DAY!!!" – he is just such a gift.
We also have both kids taking semi-private swim lessons together now – which I'm really loving. We've had Shep in private lessons since probably March of this year, and he's made great progress. I'm a psycho about water safety (I think most parents are?!) – so it's obviously super important to me that both kids understand and know how to be as safe as possible in the water as quickly as possible. I had wanted to get Shep into lessons when he was younger – but I put it off and then COVID happened and we waited longer than I wanted. So when I heard that the place we go to offered lessons for babies – and that there was an opening with a teacher who works with babies – I jumped on it. In the three weeks since we've switched to have both kids in lessons with this new (to us) teacher – Shep has made HUGE progress (he doesn't love putting his head under water, so that's been a challenge) and Scottie is shockingly picking things up really fast. She blew lots of bubbles at her last lesson and is so comfortable with all the different things they practice. I actually think babies probably have pretty strong instincts and they aren't old enough to be nervous in the water – so I am thinking she might get the hang of things much faster than Shep – but we'll see!
We're also having the exterior of our house painted – which is exciting! (#adulting!) The backside of our house gets blasted by the sun because we're sort of on top of a hill with no trees or anything behind us – and the siding is made from wood – so it was starting to wear and chip pretty badly. We wanted to get ahead of it – as one of our neighbors has a similar style house made from the same materials – and they waited so long to re-paint that they had a lot of wood damage and it ended up being super expensive and time consuming. There's just one guy doing it all by hand – and he's crushing it! He's going so fast I can't even believe it. But seeing him 40+ feet high in the air on the ladder while I'm in my office on a call is a little terrifying. Anyway – so far, I'm super happy with the color we chose. It was hard because we wanted an off-white color (it was a dark grey) but our window trim is white – so we needed it to contrast enough with the trim that it didn't wash everything out. So far, so good! I'll share a post with before and afters once it's done!
Well – that's all for now. If you like reading the blog, please subscribe to our newsletter! It will only send you an email each time I post a new blog. I also sometimes email the subscriber list about COO BABY launches and updates there, but other than that I won't spam you. 🙂 I've been taking a step back from Instagram lately – I'll get into that another time – but I do want to continue to write and share our life with this wonderful community! If you have anything you'd like to share – please don't hesitate to send me an email at info@motherhoodforme.com.
XOXO
Kaci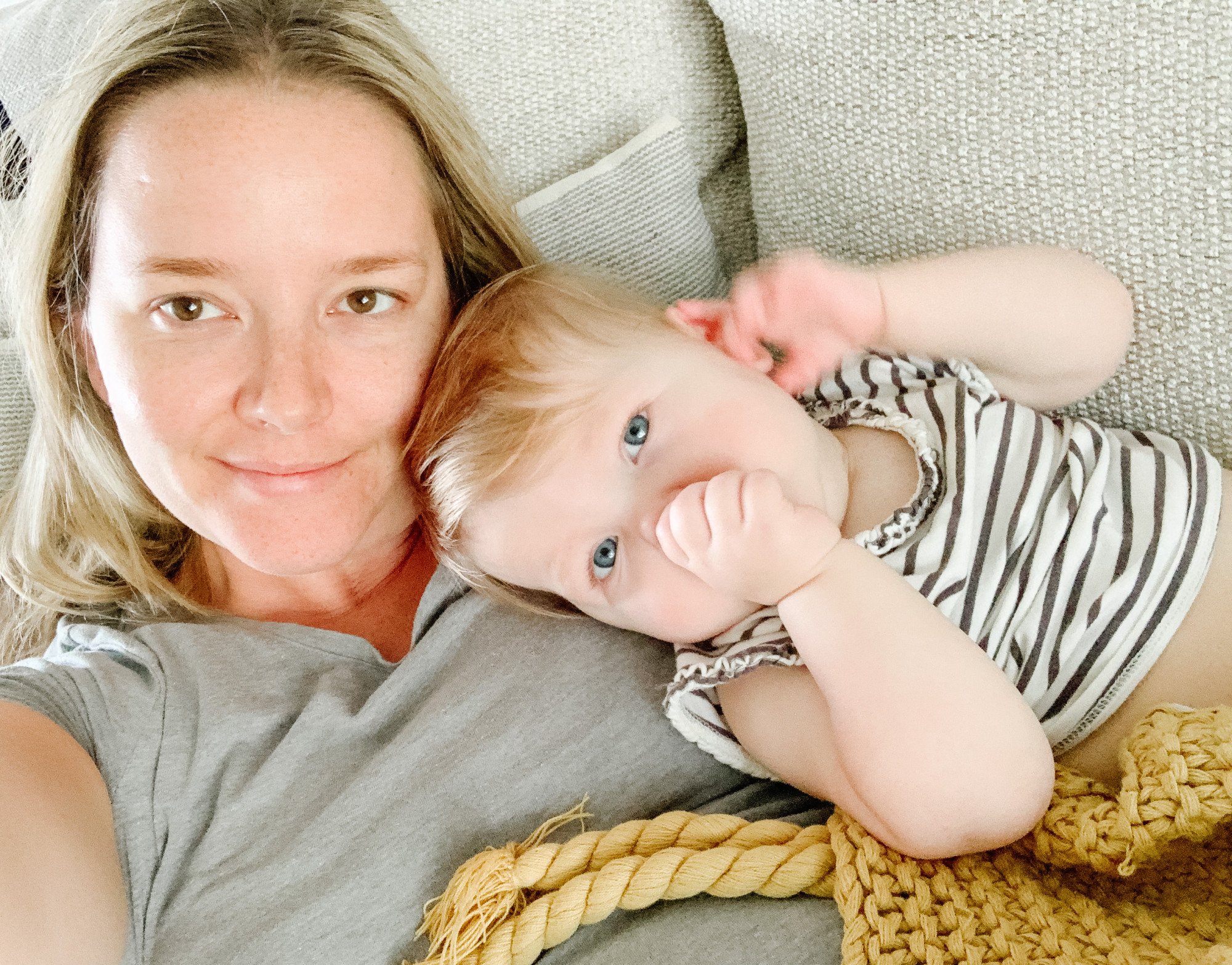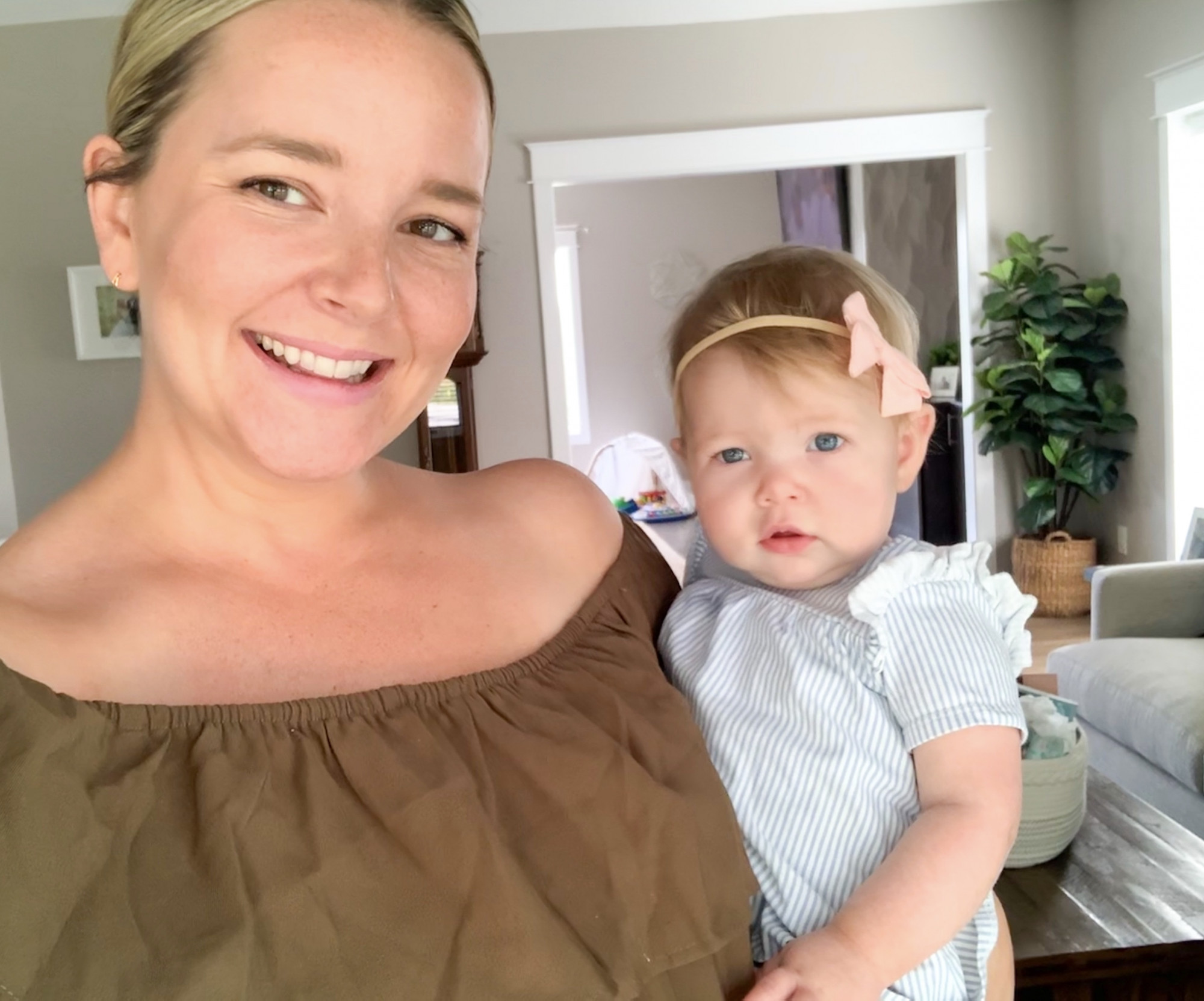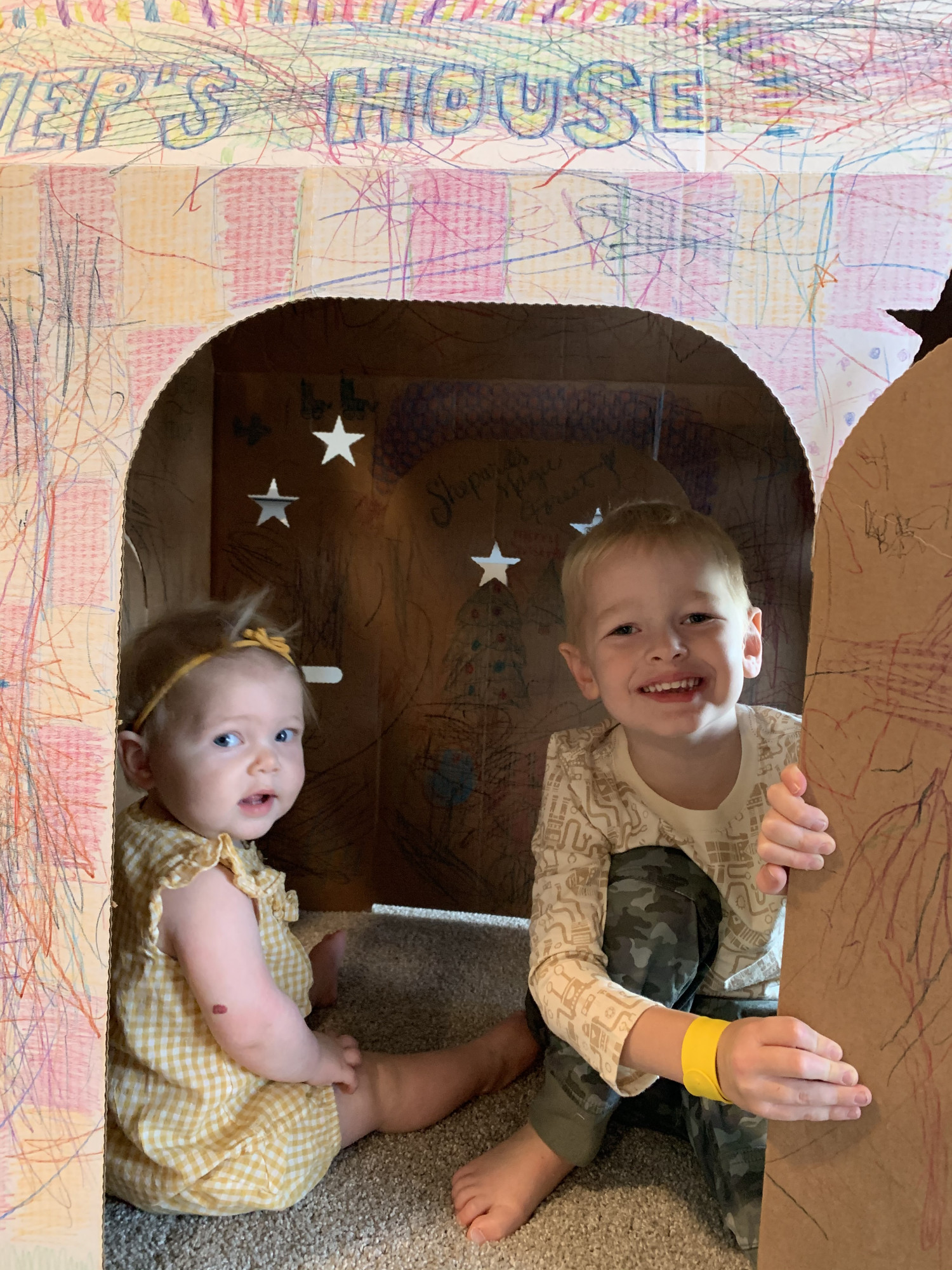 *********
Motherhood for Me is here to create a better motherhood community. A place without judgement, mom-shaming, or condescending articles telling you what to do. We are a place for you to come as you are, read about what other mamas are going through, share your own stories (if you want,) and provide opportunities for you to find camaraderie with other mothers. Please check out our other mama submitted stories, sign up to receive email alerts when we publish a new one, and spread the word to all your mama friends. We truly appreciate your support and you being here. Thank you!